July, 2016
WEDNESDAY, July 20, 2016 (HealthDay News) — A meniscal tear is a common and disabling knee injury affecting many Americans at some point in their lives.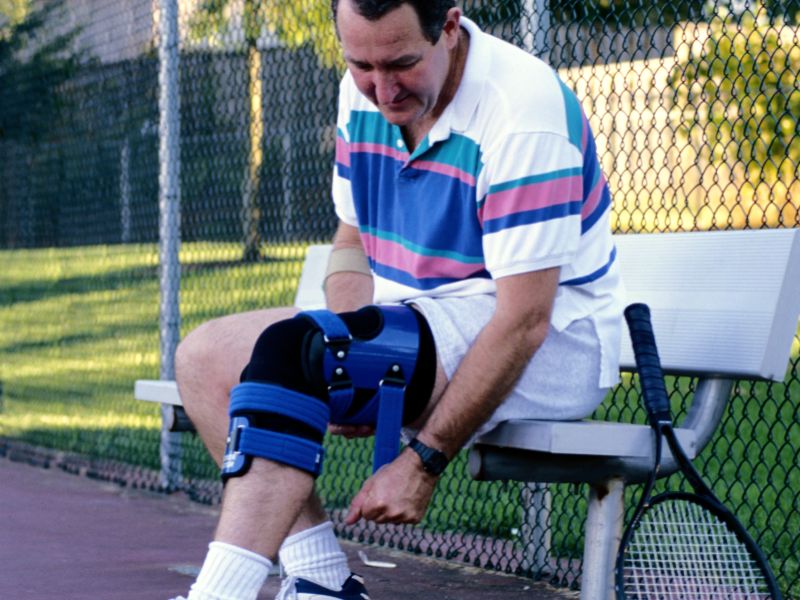 Now, new research suggests that in many cases, exercise may work just as well as surgery to heal the condition in middle-aged people.
Meniscal tears occur when damage is done to the rubbery discs that cushion the knee joint.
According to the European research team, about 2 million people worldwide undergo surgeries known as knee arthroscopy each year — although there's debate over how valuable these procedures are for meniscal tears.
To help settle the matter, a team led by Nina Jullum Kise, an orthopedic surgeon at Martina Hansens Hospital in Sandvika, Norway, tracked outcomes for 140 patients.
These patients averaged 50 years of age and had degenerative meniscal tears, largely without any signs of arthritis.
Half of the patients performed two to three supervised exercise sessions a week for three months, while the other half underwent arthroscopic (keyhole) surgery, followed by simple daily exercises at home.
After three months, thigh strength improved in the exercise group, but not in the surgery group, Kise's team reported. After two years, pain, sports and recreation function, and knee-related quality of life were similar for both groups, the findings showed.
Thirteen (19 percent) of the patients in the exercise group also underwent knee surgery during the study follow-up period, but it did not provide them with any additional benefits, the researchers said.
According to Kise's group, the findings suggest that exercise therapy should be considered for middle-aged patients with meniscal tears.
Two knee specialists in the United States had differing views on the findings.
Dr. Matthew Hepinstall is an orthopedic surgeon at Lenox Hill Hospital in New York City. He said the new study "complements prior research" finding much the same thing, and he believes that "the majority of patients can experience significant improvement over weeks to months without undergoing surgery."
He did offer one caveat, however: the size and cause of the tear matters. "The study results are most likely to apply to patients with small degenerative tears that occur without a discrete injury," Hepinstall explained.
Still, "the bottom line for middle-aged patients with meniscus tears is to try conservative treatments [such as exercise] before jumping to surgical intervention," Hepinstall said.
But another orthopedic surgeon took issue with the study's design.
"Many important factors were not taken into account," said Dr. Victor Khabie, who co-directs the Orthopedic and Spine Institute at Northern Westchester Hospital in Mount Kisco, N.Y.
"This study did not look at 'injuries,' it only looked at patients who did not have a specific traumatic event. Middle-aged, athletic individuals who sustain sports-related injuries causing meniscal tears comprise a significant proportion of individuals evaluated in an orthopedics office; excluding these patients limits this study," Khabie said.
"My sense is that if this population of patients were examined, a significant benefit to knee arthroscopy would be seen," Khabie said.
He also agreed with Hepinstall that the benefits of an exercise regimen without surgery might be limited to smaller meniscal tears. "The study included 'all' meniscal tears," Khabie noted. "Most orthopedic surgeons will only offer surgery to large tears, which on physical exam correlate with the patient's symptoms."
According to Khabie, "The bottom line is that each meniscal tear has its own unique characteristic. Only a well-trained orthopedic surgeon with experience in knee surgery can determine the best treatment option for any given patient."
By Marilyn Moritz - Reporter
click the link below to view the video
Dr Joel Buchalter discusses knee replacement surgery
SAN ANTONIO - Juan Alonso was like millions of Americans suffering from joint pain. So he opted for knee replacement surgery, hoping it would solve the problem.
Unfortunately, Alonso suffered terrible complications.
"I was in so much pain, and the swelling in the leg just kept swelling up more and more," he said.
To help alleviate the pain, a second doctor performed another knee replacement surgery.
"We had to remove his knee replacement completely, sterilize the area and then go back in and put a new knee replacement in after three months," Dr. Joel Buchalter said.
Consumer Reports looked at hundreds of hospitals to see how well patients did following replacement surgery.
"We looked at hospital infection rates, complication rates and readmission rates," Doris Peters, with Consumer Reports, said. "(We) found it really matters which hospital you go to."
Peters said patients can increase their chances of a successful surgery by making sure they get a good surgeon.
"First, you want to make sure your doctor is board-certified in orthopedic surgery," Peters said. "Then ask, 'Do they track outcomes like infections and readmissions?'"
It has been eight years since Alonso had his first replacement surgery. He said he is thankful he found the right hospital and the right doctors.
8 tips for staying safe before, during, and after the procedure
After suffering from debilitating pain for years, Juan Alonso of New York finally had his knee replaced. Then—just a few weeks later—the pain came back, if anything worse than before.
"I was in so much pain," he says. "The leg kept swelling up more and more."
He sought help from a second orthopedic surgeon, who determined that Alonso had developed a serious complication in the artificial joint.
"We had to remove his knee replacement completely, clean everything up, sterilize the area, and then go back in and put a new knee replacement in after three or so months,"
says Joel Buchalter, M.D., the orthopedic surgeon who performed the follow-up surgery. (more...)