-
Q. Are female athletes more likely to be injured during training and competition than their male counterparts?
A. Yes. Historically, because most athletes were men, fitness programs were designed for male athletes. Over time, as more girls and women entered the competitive and non-competitive athletic arena, these routines were simply adopted as is. But as young female athletes grow, their anatomy becomes differently equipped to handle certain athletic movements. Simply doing what the boys do can lead to injury. What's more, it's setting these young women up for joint failure as they age.
Q. How do I have this conversation with my daughter, without making her feel that she's somehow more delicate than her brother?
A. I have four girls of my own and I know this can be a hard conversation. Your daughter is a star athlete, make her the star of the conversation. Be sure to be inclusive.
Assure your daughter that she's just as strong and capable as her brother, but different bodies create different movements. You can let your daughter know that she needs a special type of training, one that includes different workouts unique to her body and muscular anatomy.
Q. Which injuries are most common for young female athletes?
A. Girls are eight times more likely to suffer an anterior crucial ligament (ACL) injury than boys – especially in sports that involve sudden stops and frequent changes in direction while running, like basketball, soccer, tennis, and volleyball. Girls tend to have more issues with their kneecaps staying in the proper place and gliding centrally within their grooves as they should. This could be caused by a naturally wider pelvis and therefore a larger Q angle, the angle the thigh makes with the lower leg. These anatomical forces more often force the kneecap out of its natural groove.
Weak inner thigh muscles called vastus medialis muscles could also be responsible for common injuries among women including, a dislocated kneecap, or a kneecap that floats towards the side of the leg when a person is bending or landing from a jump. The good news? This can be avoided with proper training and strengthening.
Q. As a parent, how can I help save my daughter from injury down the line?
A. Working with a coach or physical therapist who has the proper knowledge of injury prevention programs has proven very beneficial in decreasing knee injury rates in young female athletes. At Northern Westchester Hospital's Outpatient Rehabilitation program, physical therapists start by giving each patient a comprehensive biomechanical assessment. They then work on the foundations of stability, including range of motion, joint mobility, strength and flexibility. They progress towards dynamic control, including jumping, cutting, running and sports-specific movements and skills.
Q. Outside of physical therapy, what can we do at home to help protect her from injury?
A. Cross-training will help your daughter avoid injury. Jumps and modified squats will help her boost core strength. Strength training with weights will help her maintain bone density, stability and overall strength. And low-impact workouts on a stationary bike or elliptical help her build leg muscles while taking pressure off the joints.
Moms, do these joint-friendly workouts with your daughter! It will help both of you avoid injury and it could be a fun bonding experience. Summer is almost in full swing. Take a mother-daughter dip! Swimming is a great way to build all-over body strength and it's easy on the joints at any age.
Learn More About Dr. Khabie
Co-Chief of Orthopedics and Sports Medicine
Co-Director, Orthopedic and Spine Institute
Director, Sports Medicine Section
Chief, Department of Surgery
Northern Westchester Hospital
Northern Westchester Hospital is a proud member of Northwell Health.
Northern Westchester Hospital focuses on the best ways to avoid golf-related pain, your score notwithstanding.
BY DAVE DONELSON
​Does your backswing feel more like a back spasm? If it's any consolation, your golf swing probably isn't the root cause of the pain, according to Dr. John Abrahams, Co-Director of the Spine surgery Section at Northern Westchester Hospital. "It's not really the golf," he says, "it's just that people happen to be playing at a time when their back hurts."
That was one of the helpful concepts explained during the Northern Westchester Hospital FORE Your Health: Injury Prevention and Treatment for Golfers program at Athlete's Warehouse in Pleasantville in April. In addition to a presentation by Abrahams, golfers heard from a range of experts including Dr. Eric Grossman, Director of Joint Replacement Surgery, Laura Leibesman and Gerald Loehr, physical therapists, and Nicholas Serio and Cassie Reilly-Boccia, TPI-certified trainers. (more...)
Dr. Alan Berman, podiatrist at Somers Orthopaedic Surgery has performed many of these procedures with remarkable results.
Call the office at 845-278-8400 and ask for an appointment with Dr. Berman.
Click here to view the animated procedure video (this is not live surgery)
Click here to read the about the procedure
Congratulations to our podiatrist, Dr. Alan Berman, for being recognized as one of Hudson Valley's Parent Favorite Healthcare professionals.

Dr. Victor Khabie has always loved sports and medicine.
the University of Pennsylvania and played several other sports. Sports were always a big part of my life and still are."
Today, he enjoys a flourishing career that marries both passions as an orthopedic surgeon who is chief of surgery and chief of sports medicine at Northern Westchester Hospital in Mount Kisco.
There he has encountered many a promising young athlete with injuries to the ACL (anterior cruciate ligament) of the knee, which connects the femur, or thigh bone, to the tibia in the lower leg. It is a common injury — especially in soccer, football and basketball — and it is on the rise among girls and young women. Untreated, the result can be the end of competitive play and the loss of scholarship money.
Khabie — who holds an M.D. from Harvard Medical School and has been in his field for about 20 years — is distressed by "the young women I see tearing up their ACLs at an alarming rate. ACL injuries have become endemic. The intensity of the way sports are played today stresses young athletes at a high level. Soccer injuries are the most prevalent and most of them affect girls and women."
STRESS CAN OVERWHELM
He points to the often relentless competitions, sports camps, sports showcases, travel teams and other venues that keep athletes playing continuously and at a high level of intensity without ever taking a break.
"Athletes specialize in sports like soccer at a younger and younger age," he says. "They are subjecting the same body parts to the same stress over and over without taking time off. Specializing in one sport only has become almost the standard and there is a lack of cross-training, which is very beneficial to the body."
Khabie adds that an entire industry has developed around these highly specialized young athletes.
"Division I scholarship money requires a very high degree of specification to obtain it.
"The young athletes throw themselves into a high level of specialization, some of them to please their parents and others because of their own inner drive and determination to succeed. It's now a big money industry that can really put a choke hold on families. I would really like to see a return to the three-letter athletes of my college years, where top athletes played multiple sports. It's much healthier for the mind and body."
Khabie says another factor that plays into the equation of increased sports injuries among young people is that the athletes are bigger and stronger. "When they collide, there is a lot more force. Fortunately, elementary and middle school have far fewer injuries, but once the kids get to high school and college, it is a different story."
The ACL injury rate for women versus men is roughly 3 to 1 or 4 to 1.
"Women today are playing more sports and the female ACL is more susceptible to injury than the male.  It is alarming."
Khabie says he believes sports programs should concentrate more on injury prevention.
First, they should teach more about form and proper technique in their sports. "Poor technique leads to an increase in injuries. Second, coaches must remember young athletes need periods of rest. No one can go on and on without a break. Finally, specialization is a real problem that can be remedied by cross-training in one or more other sports."
Parents and athletes may also need to make an attitude adjustment about competitive sports. "Being overly driven is not a good thing," he says. "What if you don't make it to the top and don't get that scholarship? And you have to also realize that most athletic talent is innate and cannot be taught. The athletes (who are) naturally gifted will rise to the top and there is a subset that will always be at the second level, no matter how hard they try. People need to think about this."
INJURY REPAIR
In healing sports injuries, the cutting-edge continues to be the use of the body's own stem cells to improve the healing process. "Doctors can use platelets-rich plasma from the patient's own blood supply after separating it and turn it into a healing form. This is then injected into the site of the injury, and we are seeing some very good results. It's a form of natural healing that is growing in use among older adolescents."
Research has indicated that to use stem cells as an effective treatment in sports medicine, the cells must recognize where they are and know what they need to do. They then need to change into the types of cells that can form new cartilage or bone or reorganize a damaged tendon.
"I believe these techniques have a great future," Khabie says. "Anytime we can get the body to heal itself, we have taken a critical step forward."
# # #
DR. VICTOR KHABIE AT A GLANCE
Profession: Orthopedic surgeon
Title: Chief of surgery and of sports medicine at Northern Westchester Hospital in Mount Kisco.
Education: University of Pennsylvania; Harvard Medical School
Other associations: Assistant clinical professor of orthopedic surgery at the Orthopedic Institute of the Hospital for Joint Diseases at NYU Langone Medical Center. He has participated in the care of the Los Angeles Lakers, Los Angeles Dodgers, Los Angeles Kings, Anaheim Mighty Ducks and many other teams.
He is a ringside physician for the New York State Athletic Commission, where he cares for professional boxers and has been present at ringside for numerous world championship bouts.
Khabie is also with Somers Orthopedic Surgery with locations in Mount Kisco, Caramel, Newburgh and Fishkill. 845-278-8400.
Somers Orthopaedics is pleased to offer HYPROCURE® sinus tarsi implant for Talo-Tarsal Dislocation Syndrome.  The implant has been used for over 10 years and was FDA approved in 2004.  Alan Berman, DPM has done many of these procedures with excellent results.
Click the links below to view more information.
Misalignment of feet in children
http://www.hyprocure.com/patient-success-stories/
Watch the video to learn more.
FOR INFORMATION - Contact Alan Berman, DPM  845-230-5164
9/16/2016 The Journal News: Robotic Surgery Speeds Recovery
Dr. Jason Hochfelder, an orthopedic surgeon affiliated with Phelps Memorial Hospital Center in Sleepy Hollow, performed the Lower Hudson Valley's first robotic-assisted total knee replacement operation at Phelps early this year. And in 2015, an advanced Navio-robotic-assisted partial knee replacement surgery was performed for the first time in New York state at Northern Westchester Hospital in Mount Kisco, according to Dr. Victor Khabie, chief of the department of surgical services and co-director of the Orthopedic and Spine Institute at the hospital. (Sowder, 9/15)
WEDNESDAY, July 20, 2016 (HealthDay News) — A meniscal tear is a common and disabling knee injury affecting many Americans at some point in their lives.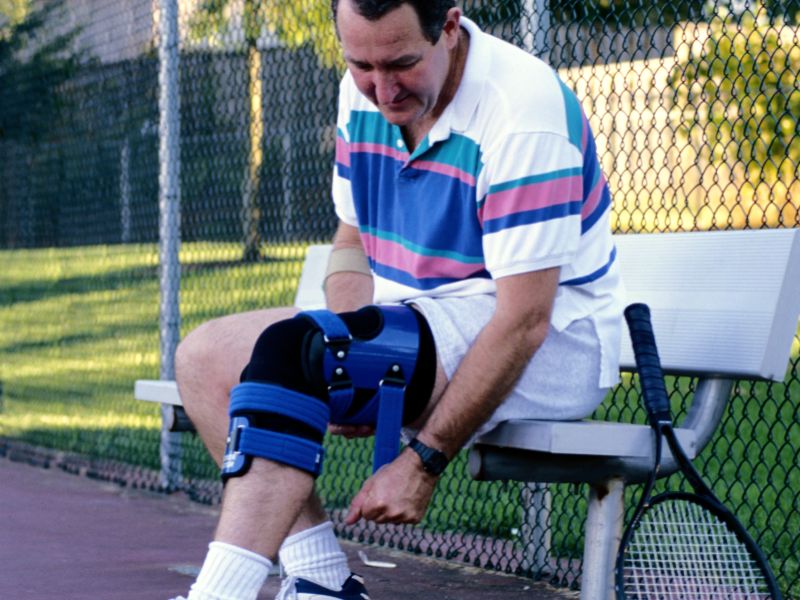 Now, new research suggests that in many cases, exercise may work just as well as surgery to heal the condition in middle-aged people.
Meniscal tears occur when damage is done to the rubbery discs that cushion the knee joint.
According to the European research team, about 2 million people worldwide undergo surgeries known as knee arthroscopy each year — although there's debate over how valuable these procedures are for meniscal tears.
To help settle the matter, a team led by Nina Jullum Kise, an orthopedic surgeon at Martina Hansens Hospital in Sandvika, Norway, tracked outcomes for 140 patients.
These patients averaged 50 years of age and had degenerative meniscal tears, largely without any signs of arthritis.
Half of the patients performed two to three supervised exercise sessions a week for three months, while the other half underwent arthroscopic (keyhole) surgery, followed by simple daily exercises at home.
After three months, thigh strength improved in the exercise group, but not in the surgery group, Kise's team reported. After two years, pain, sports and recreation function, and knee-related quality of life were similar for both groups, the findings showed.
Thirteen (19 percent) of the patients in the exercise group also underwent knee surgery during the study follow-up period, but it did not provide them with any additional benefits, the researchers said.
According to Kise's group, the findings suggest that exercise therapy should be considered for middle-aged patients with meniscal tears.
Two knee specialists in the United States had differing views on the findings.
Dr. Matthew Hepinstall is an orthopedic surgeon at Lenox Hill Hospital in New York City. He said the new study "complements prior research" finding much the same thing, and he believes that "the majority of patients can experience significant improvement over weeks to months without undergoing surgery."
He did offer one caveat, however: the size and cause of the tear matters. "The study results are most likely to apply to patients with small degenerative tears that occur without a discrete injury," Hepinstall explained.
Still, "the bottom line for middle-aged patients with meniscus tears is to try conservative treatments [such as exercise] before jumping to surgical intervention," Hepinstall said.
But another orthopedic surgeon took issue with the study's design.
"Many important factors were not taken into account," said Dr. Victor Khabie, who co-directs the Orthopedic and Spine Institute at Northern Westchester Hospital in Mount Kisco, N.Y.
"This study did not look at 'injuries,' it only looked at patients who did not have a specific traumatic event. Middle-aged, athletic individuals who sustain sports-related injuries causing meniscal tears comprise a significant proportion of individuals evaluated in an orthopedics office; excluding these patients limits this study," Khabie said.
"My sense is that if this population of patients were examined, a significant benefit to knee arthroscopy would be seen," Khabie said.
He also agreed with Hepinstall that the benefits of an exercise regimen without surgery might be limited to smaller meniscal tears. "The study included 'all' meniscal tears," Khabie noted. "Most orthopedic surgeons will only offer surgery to large tears, which on physical exam correlate with the patient's symptoms."
According to Khabie, "The bottom line is that each meniscal tear has its own unique characteristic. Only a well-trained orthopedic surgeon with experience in knee surgery can determine the best treatment option for any given patient."
By Marilyn Moritz - Reporter
click the link below to view the video
Dr Joel Buchalter discusses knee replacement surgery
SAN ANTONIO - Juan Alonso was like millions of Americans suffering from joint pain. So he opted for knee replacement surgery, hoping it would solve the problem.
Unfortunately, Alonso suffered terrible complications.
"I was in so much pain, and the swelling in the leg just kept swelling up more and more," he said.
To help alleviate the pain, a second doctor performed another knee replacement surgery.
"We had to remove his knee replacement completely, sterilize the area and then go back in and put a new knee replacement in after three months," Dr. Joel Buchalter said.
Consumer Reports looked at hundreds of hospitals to see how well patients did following replacement surgery.
"We looked at hospital infection rates, complication rates and readmission rates," Doris Peters, with Consumer Reports, said. "(We) found it really matters which hospital you go to."
Peters said patients can increase their chances of a successful surgery by making sure they get a good surgeon.
"First, you want to make sure your doctor is board-certified in orthopedic surgery," Peters said. "Then ask, 'Do they track outcomes like infections and readmissions?'"
It has been eight years since Alonso had his first replacement surgery. He said he is thankful he found the right hospital and the right doctors.
8 tips for staying safe before, during, and after the procedure
After suffering from debilitating pain for years, Juan Alonso of New York finally had his knee replaced. Then—just a few weeks later—the pain came back, if anything worse than before.
"I was in so much pain," he says. "The leg kept swelling up more and more."
He sought help from a second orthopedic surgeon, who determined that Alonso had developed a serious complication in the artificial joint.
"We had to remove his knee replacement completely, clean everything up, sterilize the area, and then go back in and put a new knee replacement in after three or so months,"
says Joel Buchalter, M.D., the orthopedic surgeon who performed the follow-up surgery. (more...)